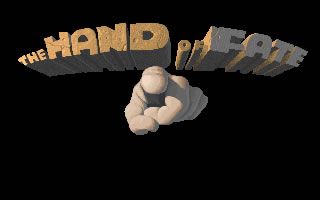 So as an inaugural mission into the very depth of my unfinished video game collection, I have chosen to playthrough an incredibly obscure adventure game you probably don't care about. Should you? Well, that depends…
The Legend of Kyrandia is a series of 3 games released in the 1990's under Westwood studios.
The original game was notable to me as being the first game I played on CD-Rom with full voice tracks. Prior to this I was accustomed to swapping disks and reading a lot of text. That game was a quirky user friendly adventure game with interesting design and some tongue in cheek dialogue.  At the time it was distinct enough from other adventure games in the lucasarts and Sierra lineup that it had a presence of freshness about it.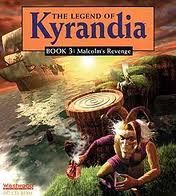 The Legend of Kyrandia 3 was another beast altogether, one that I had played through years after the original and which still holds a place in my heart as one of the most unique, if  tragically comedic adventure game experiences ever. So what happened to Legend of Kyrandia 2? That is precisely what I was wondering. 
Confusing naming conventions in video games are trying at the best of times, but this one takes the cake. The sequel to legend of kyrandia was originally released not even under the Kyrandia name, but rather simply titled 'Hand of Fate'. Sounds catchy, but my pre-pubescent self never made the connection toward this trendy revamp in game marketing. It wasn't till sometime later that it was re-released under the original naming convention with 'Hand of Fate' being rendered to a subtitle.

So of course having had fond memories of books 1 and 3, naturally I wanted to see what book 2 brought to the table. So I eventually got my hands on it years later, but only ever played a quarter of the game.  So that brings us here. 
Starting this game I was completely unsure of what to expect. The series has had a number of slight flirtations with surrealism to perhaps stick out from the crowd and provide an occasional humorous juxtoposition, but Hand of fate takes this characteristic of the series into new terriitory. The first thing you will note about the games introduction after having watched it is that indeed… the hand of fate is not an abstract concept as the title may have suggested. There is a character in the game that is in fact a gigantic hand whose role remains ominous for most of the game, but lends a … uh helping hand to our games protagonists in the introduction.

The idea is that the world of Kyrandia is in great peril, and different sections of it are disappearing into thin air. A council of mystics, of which our main character is a part, are called to organize a plan of action. The hand, being apparently well aversed in the mysterious ways of this magical land somehow manages to conduct a presentation in which he explains an ingenious plan to send our main character Zanthia to the centre of the earth to retrieve a magical anchor stone that is apparently the only means of saving Kyrandia. More on Anchor's later.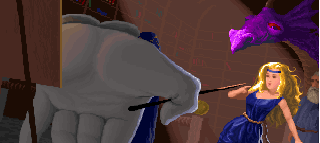 To properly understand what this game is about you just have to hear about the arduous journey in trying to leave the games first main hub area. It is a real hoot.

Zanthia is a sarcastic magical mystic that upon going to set out on her quest finds that all of her magical supplies have been ransacked and stolen from her house located in a swamp. Uh oh! … looks like we can't create that magic portal that would save us 4 hours of game time. While Zanthia struggles for supplies, she never struggles to look good as she apparently has a limitless magical wardrobe that will change with the flick of her fingers. A quick outfit change, and she is off to save the strange world of Kyrandia. 

Your first task is to get some gold for a ferry that will take you across a lake, and that ferry is run by a .. uh.. ferry. You eventually have to find a lost treasure that is guarded by a rat. By some twist of logic you have to create a potion that will create a gigantic cobra to scare the rat. It is only after the rat character leaves the game to never return that you indeed find some cheese…

So you find the treasure chest. Inside is a alchemy wand that turns led  into gold. No gold there. Ok. So now I need to find led. I can give some cheese to some fisherman in exchange for their anchor which would be led. They decide take some cheese in exchange, but decide to float away without giving you the anchor. Leaving you with nothing. The ferry's ferry doesn't have an anchor and is magically held in place. The anchor you need is in a wrecked boat right beside your house at the beginning. Ok game. You win this time, but you wont fool me again… I now have a golden anchor. 

So i go toward the ferry and…. WTF!?! The ferry is destroyed by a dragon creature. The dragon creature will give me a ride, but this dragon is a courier and it dropped a bunch of mail in random places. Go get it. Obviously that is what you want to do. So assuming you haven't rage quitted at this point, you have picked up the mail. You are now flying across the land on a dragon and decide you should drop the totally awesome Golden anchor you just made because its weighing down the dragon in flight.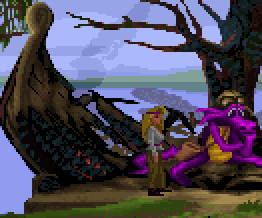 This game trolls you a lot. I think that is its defining characteristic.
As the game progresses you will find yourself in a number of unique and nonsensical circumstances. You will just be walking along minding your business, when a ghost suddenly appears out of a haystack saying nothing. Naturally it should occur to you to put this random ghost in a bottle. Ok … now continue…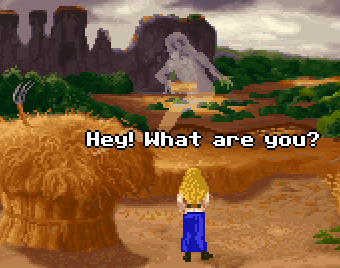 There is a delightful randomness here that cannot be properly expressed. This game is blissfully ignorant of the norms of our world. In so being it also frequently commits the greatest sin of the adventure genre, and that is creating puzzles that defy any real world logic. Would you assume you would be capable of milking a goat in this game? Would the clearest weakness of two guards be their love of picnic sandwiches? Perhaps you could attain these details after careful interrogation of the local inhabitants. Well… actually you can't. This games dialogue system is as clear cut and streamlined as one click responses.

More or less you are left to fend for yourself in this world gone mad.
While I admit the game is damned frustrating and nearly impossible to actually play, you do get to ride rainbows and dinosaurs. Also, the hand did it. 
Turns out the anchor stone was a decoy and your whole mission was pointless.
Proceed to battle hand on top of rainbow.
Oh, you thought I was kidding?
This isn't the final battle though. That happens latter in a room with levers that control the entire world or something. The game wraps with a conclusion to an unconventional love story that spanned the game where you, a girl, end up continually saving an inept cock who thinks he is saving you. Interesting choice. Would I recommend playing this game? Probably not. All of the elements seem deliciously sadisitic and wierd in writing, but once you are down there you will realize that time has not been kind. Gamers don't game like this anymore for a reason.